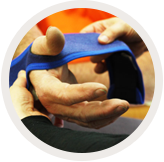 Hands On Rehabilitation

is a specialist hand and upper limb rehabilitation clinic.

At Hands On Rehabilitation, our vision is to provide specialist hand therapy services that are highly valued by our clients and our referrers. We are dedicated to empowering our clients to achieve maximum function and their best possible outcome.

Hands On Rehabilitation was founded in 2003 and works closely with our allied health professionals, local GP's, public and private accident and emergency services, plastic and orthopaedic surgeons, ACC and other insurers.

We now offer four clinic locations Akoranga and Albany on the North Shore of Auckland, Red Beach on the Hibiscus coast and Westgate in West Auckland.

Our hand therapists use a wide range of techniques and modalities that are learned, maintained and improved through ongoing professional development programmes, mentoring, workshops, conferences and evidence based practice.